wwXl kan uw huisstijl ontwerpen.
Briefpapier, enveloppen, visitekaartjes, afspraken kaartjes, op papier of opgemaakt voor digitale verzending. 
Daarnaast kunnen we ook het bestaande logo voor uw nieuwe documenten, folders, kaarten aanpassen of omzetten als er wijzigingen nodig zijn. 
Korte opsomming van wat mogelijk is rondom uw huisstijl:
Banners, briefpapier, mappen, visitekaarten, alles wat bedrukt kan worden, kan ook ingezet worden om een boodschap uit te dragen of op te vallen. 
wwXL denkt mee en zorgt dat u met de gewenste producten voorzien van uw stijl op pad kan.
Enkele voorbeelden van ontworpen Logo's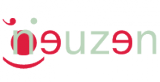 Logo Neuzen